Aus der Hölle wegen unanständigen Benehmens herausgeworfen…
Rundumfrischzellenerneuert steht er da: der KING.
Die Seinen wussten es immer: Er war nie wirklich weg. Er wollte eigentlich nur Steuern, alte Wettschulden und Unterhalt sparen: Nun ist er zurück: der KING.
Mit ihm die Höllenhunde der goldenen 80er: Jonny Pepita, Randy Andy und Horny Franky.
Zusammen schleifen Sie im Stahlbad seine Hits zu wahren Partyhymnen. Evil Elvizz is back from Hell! Ready to rock the House!
Niemals wurden die alten Schinken heftiger interpretiert. Niemals wurden weniger Gefangene genommen.
Mehr Sex. Mehr Drugs. Mehr Rock`n`Roll!!!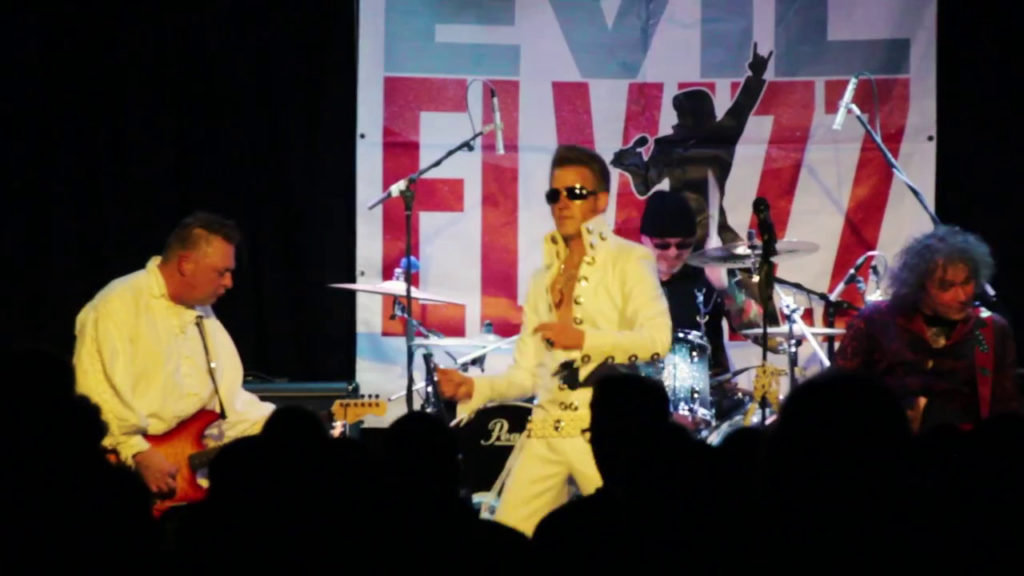 Ihr wolltet es – hier ist es:
haltlose Laszivität und Exzess für die Kinder der Eltern, in deren Herzen der KING ewig weiterlebte.
Nur – so haben sich eure Eltern sein Comeback nicht vorgestellt:
Polarisierend.
Außergewöhnlich.
Heftig für Auge und Ohr.
Evil!
Showtime!
Priscilla Presley wollte die ganze Angelegenheit wegen Störung der Totenruhe unterbinden!
Lisa Marie verklagt ihren Vater auf 40 Mio US-Dollar Unterhaltsnachzahlung.
Das IRS ist ihm auf den Fersen.
Chuck Berry hasst ihn.
Evil Elvizz wird es allen zeigen.
Dieses mal auf die harte Tour!
Stay tuned…